Introducing Terra Card: The Ultimate Private Crypto Prepaid Physical Card for Global Payments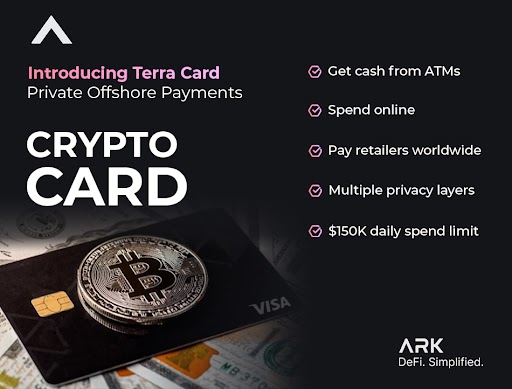 A high-limit crypto spending card issued by an offshore Panamanian bank that can be used worldwide at Automated Teller Machines (ATMs) for cash withdrawals or purchases anywhere Visa prepaid debit cards are accepted.
Ark Fi redefines everyday spending with Terra Card, empowering users to seamlessly off-ramp and spend crypto assets. A two tier affiliate program provides and opportunity for social influencers to receive a commission for promoting Terra Card.
Ark Fi, a pioneering force in the realm of cryptocurrency and decentralized finance, proudly unveils the Terra Card, an innovative prepaid physical card designed to facilitate cash withrdrawals at ATMs, effortless online payments and worldwide tap-to-pay transactions using cryptocurrencies.
For a gateway into the world of Terra Card and to revolutionize the way you use crypto in your day-to-day life, interested users can visit the sign-up page at https://bank.arkfi.io/cards/
Terra Card sets a new precedent for crypto usability, merging the advantages of tangible currency with the privacy and ease of use inherent to cryptocurrencies. With Terra Card, users can seamlessly take cash out of an ATM, make online purchases or perform in-person purchases at millions of retailers worldwide by converting their digital assets into practical currency for everyday transactions.
"We are thrilled to introduce Ark Fi's payment card solutions, offering a straightforward means for crypto holders to convert digital assets into cash at ATMs, make seamless purchases online and pay for goods and services at brick-and-mortar point-of-sale (POS) systems," shared CEO and founder, Atlas. "Centralized exchanges and banks have left customers stranded in their desire to utilize their crypto as real-world currency. Terra Card provides the avenue for them to do so."
Key Features and Benefits of Terra Card
Instant Accessibility: Terra Card enables users to initiate payments in a matter of minutes with instant crypto swap and load times. No more waiting for funds to become available.
Crypto-to-Card Integration: Users can securely store their crypto in a Web3 wallet of their choosing. When they're ready to spend, loading their Terra Card is a seamless process. The exchange transpires instantaneously, and the card is loaded within seconds, ready for immediate use.
Broad Acceptance and Compatibility: Terra Card is issued by Visa, allowing cash withdrawals at ATMs and payments at millions of online and retail merchants worldwide. Additionally, Terra Card functions seamlessly with Visa payment networks, ensuring widespread acceptance wherever these networks are supported.
Truly Private Experience: Terra Card values user privacy and operates with a light KYC/AML verification process through an issuing bank in Panama, enabling users to enjoy many layers of privacy between their crypto holdings and their point of purchase payments.
Flexible Usage and Support: Terra Card offers a range of benefits, including a refillable balance limit of $150,000, a daily transaction limit of $150,000 and transparent low fees. Furthermore, users have access to 24/7 live tech support to address any queries or concerns that may arise.
Ark Fi is a forward-thinking fintech group dedicated to delivering decentralized software applications and EVM contracts that interact with blockchain platforms such as Binance Smart Chain (BSC). The Ark Fi ecosystem encompasses a fiat-to-crypto gateway, high-yield applications (Dapps), and crypto payment cards for real-world spending. The platform is engineered to be insulated from the volatility of conventional markets, providing a source of passive income for its global community of users. Ark Fi endeavors to develop decentralized finance applications and utilities that are private, inclusive, sustainable, and scalable across blockchains.
Official Ark Fi Website: https://www.arkfi.io/
Inquiries can be made via the Official Ark Fi Telegram channel: https://t.me/officialARK
Note: Nothing in this press release is intended to constitute investment advice. Neither the author nor the publication takes any responsibility or liability for any investments, profits, or losses you may incur as a result of this information. Readers are encouraged to perform their own due diligence and research, or consult a licensed financial advisor or broker before makin any and all investment decisions.
Media Contact
Company Name: Ark Fi
Contact Person: Atlas Ark
Email: Send Email
Country: United States
Website: https://www.arkfi.io/