BonMyVoyage Introduces AI-Powered Itineraries and Travel Planner Marketplace for Enhanced Travel Experiences
BonMyVoyage is empowering global travelers through their innovative travel planning with AI-Powered Itineraries.
SAN FRANCISCO, CA – SEPTEMBER 28th, 2023 – BonMyVoyage, founded by software architect Vaibhav Garg, has introduced an AI-powered travel planning platform and revolutionary marketplace to reshape the way travel is experienced. BonMyVoyage is empowering users to create customized itineraries that accommodate their specific preferences and requirements.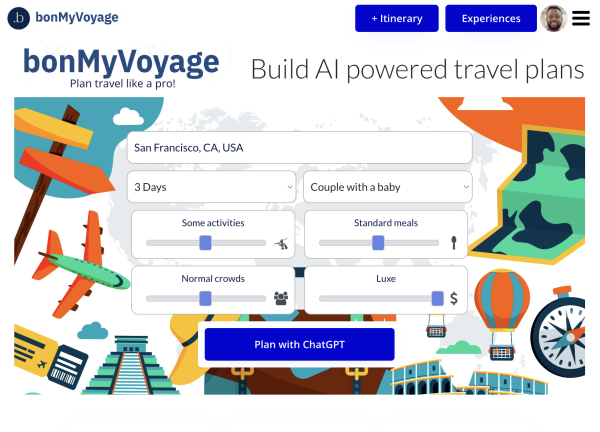 Image Credits: BonMyVoyage
Since its successful launch in March 2023, they have rapidly amassed a loyal user base by providing travelers with an array of innovative features that have enhanced the way people explore the globe.
BonMyVoyage's variety of travel planning options meet the diverse requirements of travelers. Users can access complimentary customizable Chat GPT-generated travel itineraries utilizing advanced AI technology through their services. These itineraries are designed to be personalized, with enlightening connections and seamless integrations with GetYourGuide, allowing travelers to effortlessly plan customized excursions, eschewing generic travel experiences.
In addition to their AI-driven itineraries, BonMyVoyage now provides a revolutionary marketplace that transforms the way in which travelers connect with seasoned travel planners. This marketplace functions by allowing travelers to locate human travel planners who have listed themselves based on their destination expertise.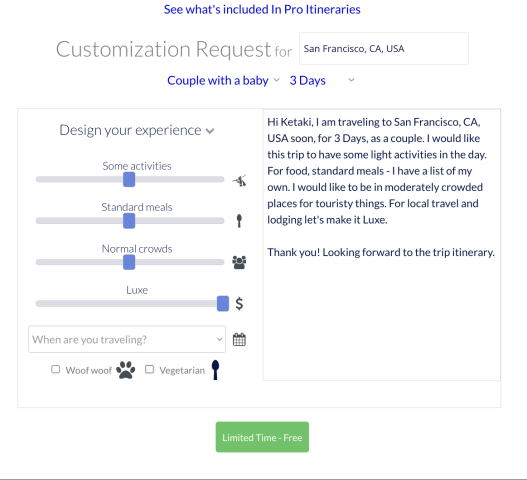 Image Credits: BonMyVoyage's Marketplace
Travelers can peruse these profiles, evaluate their credentials, and choose a travel planner who shares their vision. Through the BonMyVoyage website, every step of the way, from employing a planner to exchanging information and making transactions, can be completed without difficulty.
These skilled Voyager Plus professionals excel at providing comprehensive itineraries, working with reservations, securing restaurant reservations, providing travel consultations, and recommending lodging options. BonMyVoyage ensures that travelers have access to expert guidance for a premium and individualized travel experience through this marketplace.
BonMyVoyage gives access to an extensive library of prebuilt sample itineraries for inspiration, in line with its mission to empower travelers to plan dream vacations, whether they seek to explore like a local, embark on a curated excursion, or simply find inspiration for their next vacation.
Vaibhav Garg states, "BonMyVoyage was created with a lot of love, and I hope that travelers around the world find it as valuable and exciting as I do." BonMyVoyage has effectively fused technology and wanderlust, enabling travelers to embark on customized, unforgettable journeys.
As BonMyVoyage grows and evolves, it remains dedicated to providing travelers with a streamlined and enriching travel planning experience. BonMyVoyage has the potential to transform aspirations into experiences, be it for seasoned adventurers or first-time travelers.
To learn more, please visit – https://bonmyvoyage.com/.
About BonMyVoyage
BonMyVoyage, the brainchild of software architect Vaibhav Garg, has enhanced the travel planning experience for users with its AI-driven platform. Garg's passion for integrating technology and wanderlust is reflected in BonMyVoyage's commitment to making travel planning accessible and pleasurable. As the platform evolves, it continues to improve the travel planning experience, catering to explorers from all over the globe.
Media Contact
Company Name: BonMyVoyage
Contact Person: Vaibhav Garg
Email: Send Email
City: San Francisco
Country: United States
Website: https://bonmyvoyage.com/