Nine-Year-Old Sensation Sky Vaux Fuller Nominated for Norton Award, Set to Steal Hearts as "the Child" in Evita at American Repertory Theater
Boston, MA – May 23, 2023 – It is with great pride and excitement that we announce the extraordinary talent of young Sky Vaux Fuller, represented by WSM Talent in NYC, who has been nominated for the prestigious Norton Award for her remarkable performance as "the Child" in the critically acclaimed production of Evita at the American Repertory Theater. Sky, at just nine years old, has captivated audiences with her exceptional acting prowess, and her star is undoubtedly on the rise.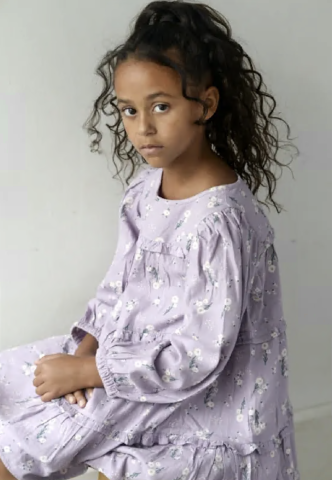 Evita, the iconic musical by Andrew Lloyd Webber and Tim Rice, has taken Boston by storm, and Sky's portrayal of "the Child" has been hailed as a standout performance. Sky's ability to embody the innocence, vulnerability, and emotional depth of the character has left both audiences and critics in awe, drawing praise for her remarkable stage presence and natural talent.
The Norton Award, presented by the Boston Theater Critics Association, recognizes outstanding achievements in Boston's vibrant theater scene. Sky's nomination is a testament to her exceptional abilities and the impact she has made on the stage. This recognition places her among the finest talents in the city, and we couldn't be prouder of her accomplishments at such a young age.
Sky Vaux Fuller's journey as an actor began at a tender age, where she displayed an innate passion for performing. Represented by WSM Talent in NYC, her dedication and unwavering commitment to her craft have earned her the respect and admiration of her peers and the theater community at large. Sky's talent, coupled with her infectious energy and infectious smile, is sure to leave a lasting impression on anyone fortunate enough to witness her performance.
The American Repertory Theater is thrilled to have Sky as a part of the Evita cast, and audiences can look forward to her captivating portrayal when the production opens on May 25th, 2023. This highly anticipated event promises to be an enchanting evening of music, dance, and unforgettable performances, with Sky's role as "the Child" sure to leave an indelible mark on the hearts of theatergoers.
Don't miss this extraordinary opportunity to witness the extraordinary talent of Sky Vaux Fuller, represented by WSM Talent in NYC, and experience the magic of Evita at the American Repertory Theater.
Tickets for the show can be purchased online through the theater's official website or by contacting the box office directly.
About Sky Vaux Fuller
Sky Vaux Fuller is a nine-year-old prodigious talent in the world of theater. Represented by WSM Talent in NYC, her captivating performances have earned her critical acclaim and recognition, including a nomination for the Norton Award. Sky's natural abilities and commitment to her craft make her an exceptional actor, and she continues to shine on stage, captivating audiences with every performance. @skyvauxfuller and YouTube https://www.youtube.com/@SkyVauxf/featured
About the American Repertory Theater
The American Repertory Theater (A.R.T.) is a leading theater company located in Boston, Massachusetts. Known for its bold and innovative productions, A.R.T. has gained national and international recognition. With a commitment to nurturing emerging talent and presenting groundbreaking works, the theater continues to be a cultural hub for both local and global audiences.
Media Contact
Company Name: WSM Talent
Contact Person: Darlene M Sweeney, Talent Rep
Email: Send Email
Phone: 978-985-6077
Country: United States
Website: https://www.wsmtalent.com/