Meet Nina Kharoufeh, A Boxing and Comedy Double Threat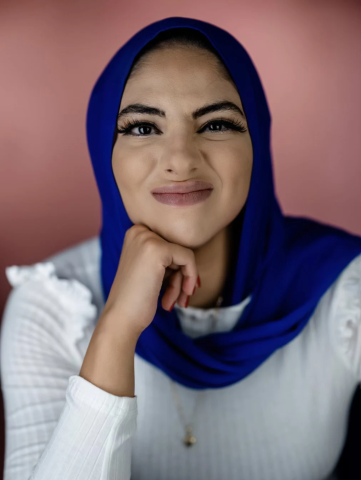 Nina Kharoufeh, an Arab-American Muslim standup comedian, author, and aspiring boxer, has tremendous success looming over the next few years as she embarks on her journey to leading the comedy industry and advancing her boxing career. While most people succumb to adversity, Nina used it to fuel her career. As a hijab-wearing American, she faced unsolicited prejudice from individuals about her religious beliefs. After graduating from Montclair State College of the Arts with a bachelor's degree in media, she discovered her life calling, comedy.
After graduating, Nina began advancing her career as a comedian performing across America and even internationally. She published her first book, "I'm Princess Too," which centers around the life of a young Muslim girl trying to live an everyday life despite encountering prejudice. A significant amount of Nina's standup content brings light to the tribulations many Muslim-Americans face daily. Nina quit her full-time media job at Sirius XM in devotion to her passions and oncoming projects.
Along with performing in the first ever all-women Middle East Comedy tour, Nina has had some remarkable recent accomplishments, such as touring Kuwait, Bahrain, and Dubai and headlining Carolines, one of New York's most prominent comedy clubs. In Morocco, she also recently filmed her first television show. While the details remain a mystery to her fanbase, the show will be available soon. As Nina celebrates the success of her first book, she is working on publishing her second while pursuing her amateur boxing career.
Though boxing and comedy are very different career paths, they share many similarities in their levels of difficulty and competition. It takes a long time to master standup comedy, and Nina is at the beginning stages of it despite her many triumphs early on. In the next five years, Nina's hard work will open doors to achieving her dreams of becoming a professional boxer and taking over the comedy scene. "Work hard, stay humble, and stay focused. Always keep my eye on the prize. Don't let the outside noise distract me." says Kharoufeh. This quote alone shows the incredible, courageous character Nina has.
For fans looking to follow Nina's exciting rollout of her new TV show, books, and comedy specials, you can find her on Instagram @NinaKharoufeh. "I'm a Princess Too," her critically acclaimed book, is available on Amazon, paperback, and digitally. Be sure to check out the many exciting things from Nina, as anyone who has faced adversity in life can resonate with a true underdog story like Nina's.
Media Contact
Company Name: Copywrite America
Contact Person: Nicholas Guastamacchia & Nigel Peace
Email: Send Email
Country: United States
Website: https://www.copywriteamerica.org/