The Defective Replacement Of Hid Xenon D1s For Audi-Tts 2010 Year Version
Hello, welcome to BULBTEK, we are specialized in car LED headlight bulbs, car led bulbs and HID for more than 12 years.
Last week we replaced 1 pc defective HID xenon D1S for AUDI TTS 2010 version.
The headlight kit of this car is Bi lens projector which switch high beam and low beam by moving the inside metal shield / slide, so there is only 1 bulb in a headlight kit for high and low beam. The original bulb is HID xenon D1S, the problem was that the bulb of the driver side(left side) was not bright.

Now, let's see how to do the replacement. 1. Open the hood. Due to the tiny space of installation, we have to take out the headlight kit for replacing.

2. Take off the trim, then loosen the screws which fixed the headlight kit.

3. Disconnect the plug.

4. Take out the headlight kit carefully.

5. Take off the defective original D1S HID xenon from the headlight kit, replace the BULBTEK super bright D1S xenon bulb.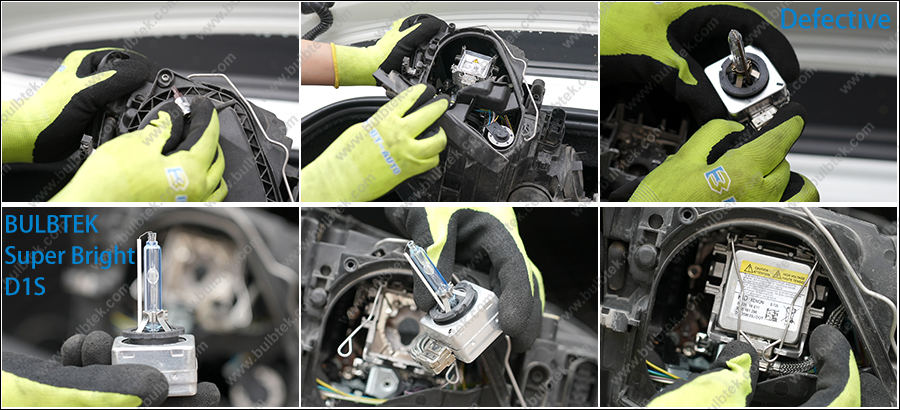 6.Connect the bulb with car's power socket and light up to check if it's bulb problem or ballast problem before installing the headlight kit back. Luckily, the BULBTEK D1S xenon bulb works well, so it's clear that the original D1S bulb is defective and the power supply is ok. We can see the tube's capsule of the original D1S bulb is smoking yellow & black color after burned.

7. Install the headlight kit and trim back, then the replacement finished.

Following is the YOUTUBE video for this replacement, you can check for reference.https://www.youtube.com/watch?v=fAKrZVbLs6Y&list=PLWKBzeFzDTmyxjpZguA1v-LXeTt1jtsGH Now we have new arrival LED headlight bulb XD35 D series(D1, D2, D3, D4, D5, D8) which is plug & play to HID ballast directly, non circuit modification, non destructive installation, high stability & compatibility and CANBUS inside.

And we did compare the XD35-D1S LED with the defective D1S xenon, it's same size and socket, so the installation should be easy like the D1S xenon. Next time we will show you the installation of XD35 LED bulb when we have chance to replace the xenon bulb to our BULBTEK XD35 LED bulb.

Thanks for reading, if you have any questions about car LED headlight bulb, car LED bulb and HID, please feel free to contact us.
Media Contact
Company Name: Guangzhou Bulletek Electronics Technology Co., Ltd.
Email: Send Email
Country: China
Website: https://www.bulbtek.com/