"Creative Alchemy: The Science of Miracles"… reaches the top of Amazon Best Seller Lists
Creative Alchemy hits #1 on the Amazon Best Seller Lists on International Kindle Stores.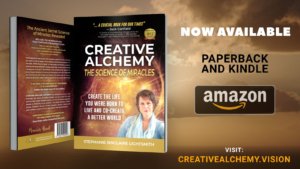 Creative Alchemy: The Science of Miracles hit #1 position on the Amazon.com Best Seller List on May 29th, 2020. The book was also #1 on international Amazon stores, including USA, Canada and Australia.
Creative Alchemy: The Science of Miracles reveals the Ancient Secret Science of Miracles. The book is referencing the latest in cutting-edge neuroscience, quantum science, technology of emotion, biology, psychology, cymatics and the secret metaphysical science of manifestation once considered too powerful to share.
In this book, author Stephanie Sinclaire Lightsmith shares how, and why, readers can change their destiny and she provides the tools for them to create the life of their wildest dreams.
The author has taught these tools and techniques globally for over 25 years with consistent and profound results to students, teachers, businesses, entrepreneurs, scientists, therapists, families, artists, filmmakers and to people of all ages and from all walks of life. She states that "everything you need to know to create a life of meaning, abundance and purpose is in this book."
In the book forward, Jack Canfield, co-author of the bestselling Chicken Soup for the Soul® series, co-author of The Success Principles (TM) and a featured teacher in The Secret, stated that this is "… a crucial book for our times."
Creative Alchemy: The Science of Miracles is available on Amazon, in Paperback and Kindle.
To learn more about Creative Alchemy please visit www.creativealchemy.vision
Media Contact
Company Name: Global Wellness Media
Contact Person: Eric D. Groleau
Email: Send Email
Phone: 866-467-9090
Country: Canada
Website: https://globalwellnessmedia.com