Prostate Cancer Market Set to Increase at a CAGR of 8.1% for the Study Period 2017-30
Prostate Cancer Market Size is Expected to Increase with a CAGR of 8.1% in the 7MM for the study period of 2017-30 owing to rich Pipeline, Increasing Awareness and Better Treatment Options.
DelveInsight's "Prostate cancer Market Insights, Epidemiology, and Market Forecast-2030" report delivers an in-depth understanding of the Prostate cancer, historical and forecasted epidemiology as well as the Prostate cancer market trends in the United States, EU5 (Germany, Spain, Italy, France, and United Kingdom) and Japan.
Geography Covered
The United States
EU5 (Germany, France, Italy, Spain, and the United Kingdom)
Japan
Study Period: 2017-2030
The Prostate cancer market report provides current treatment practices, emerging drugs, Prostate cancer market share of the individual therapies, current and forecasted Prostate cancer market Size from 2017 to 2030 segmented by seven major markets. The Report also covers current Prostate cancer treatment practice/algorithm, market drivers, market barriers and unmet medical needs to curate best of the opportunities and assesses the underlying potential of the market.
Request for sample pages: https://www.delveinsight.com/sample-request/prostate-cancer-market
Disease Overview
Prostate Cancer is cancer that develops slowly and remains confined to prostate glands initially, invading other organs progressively.
Prostate Cancer is the third most prevalent type of cancer in the US and the fourth most common form of cancer worldwide, Prostate Cancer is the most leading cause of death in men after lung cancer.
Prostate Cancer Epidemiology
The Prostate cancer epidemiology division provide insights about historical and current Prostate cancer patient pool and forecasted trend for every seven major countries. It helps to recognize the causes of current and forecasted trends by exploring numerous studies and views of key opinion leaders. This part of the DelveInsight report also provides the diagnosed patient pool and their trends along with assumptions undertaken.
According to DelveInsight's Prostate Cancer Epidemiological analysis, by 2020, a total of 7,494,882 males will be diagnosed with it in the 7MM, and the US alone will account for 3,478,728 Prostate Cancer prevalent cases.
Click to know more: https://www.delveinsight.com/blog/prostate-cancer-market/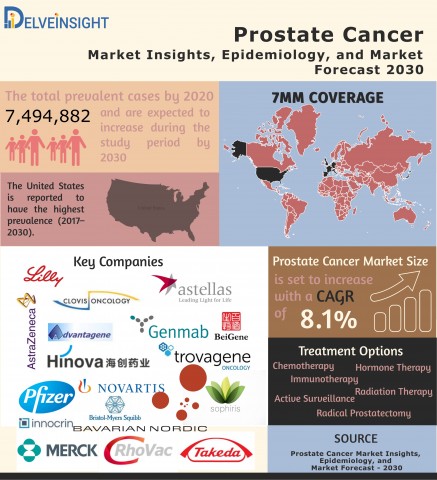 The disease epidemiology covered in the report provides historical as well as forecasted Prostate Cancer epidemiology segmented as
Total Prevalent Cases of Prostate Cancer
Total Diagnosed Cases of Prostate Cancer
Age-specific Cases of Prostate Cancer
Total Diagnosed cases of Prostate Cancer patients by Clinical Stages
Total Non-metastatic and Metastatic Cases of CSPC/HSPC and CRPC
Total Treated cases of Non-metastatic CSPC/HSPC and CRPC
Total Treated Cases of metastatic HSPC/CSPC, and CRPC
Prostate Cancer Market
The Prostate cancer market outlook of the report helps to build the detailed comprehension of the historic, current and forecasted Prostate cancer market trends by analyzing the impact of current therapies on the market, unmet needs, drivers and barriers and demand of better technology.
Prostate Cancer Market Size is Expected to Increase with a CAGR of 8.1% in the 7MM for the study period of 2017-30 owing to rich Pipeline, Increasing Awareness and Better Treatment Options.
Prostate Cancer Marketed Drugs
Xofigo (radium Ra 223 dichloride): Bayer Health Care
Xtandi (Enzalutamide): Astellas Pharma
Prolia (denosumab): Amgen
Erleada (apalutamide): Janssen Pharmaceutical
Jevtana (Cabazitaxel): Sanofi
Nubeqa (Darolutamide/ODM-201): Bayer HealthCare/Orion Corporation
At present, several companies like AstraZeneca/Merck Sharp & Dohme (Lynparza), Bristol-Myers Squibb (Opdivo), Novartis (Lutathera), Myovant Sciences (Relugolix), Janssen Research & Development (Niraparib), Hinova Pharmaceuticals USA (HC-1119), Hoffmann-La Roche (Ipatasertib), Pfizer/Astellas Pharma (Talazoparib), Clovis Oncology (Rucaparib), Advantagene or Candel Therapeutics (ProstAtak), and Merck Sharp & Dohme (Keytruda) and several others are investigating their key products in the Prostate Cancer Market for the management of the disease.
Visit to know more about the report offerings: https://www.delveinsight.com/report-store/prostate-cancer-market
Prostate Cancer Emerging Drugs
Lynparza: Pre-registration
Rucaparib: Pre-registration
Opdivo (nivolumab): Phase III
177Lu-PSMA-617: Phase III
Niraparib ± Abiraterone Acetate: Phase III
HC-1119 (Deuterated form of enzalutamide): Phase III
Ipatasertib (RG7440) + Abiraterone Acetate: Phase III
Talazoparib ± Enzalutamide: Phase III
ProstAtak (AdV-tk) + valacyclovir: Phase III
Relugolix: Phase III
Capivasertib: Phase II
Seviteronel: Phase II
PRX302 (topsalysin) Phase II
RV001: Phase II
Prostate Cancer pipeline is robust including late- phase diverse group of drug classes such as PARPi, PD-L1i, AKTi. Moreover, uptake of potential emerging therapies with better clinical profile, an increase in the demand for the better treatment due to the rising elderly population as well as Prostate Cancer prevalence, incremental healthcare spending, and raising awareness of the disease are other market drivers behind the changing dynamics of the Prostate Cancer market that is anticipated to change by 2030.
Scope of the Report
The report covers the descriptive overview of Prostate cancer, explaining its causes, signs and symptoms, pathophysiology, diagnosis and currently available therapies
Comprehensive insight has been provided into the Prostate cancer epidemiology and treatment in the 7MM
Additionally, an all-inclusive account of both the current and emerging therapies for Prostate cancer are provided, along with the assessment of new therapies, which will have an impact on the current treatment landscape
A detailed review of Prostate cancer market; historical and forecasted is included in the report, covering drug outreach in the 7MM
The report provides an edge while developing business strategies, by understanding trends shaping and driving the global Prostate cancer market
Table of Contents
Key Insights
Executive Summary of Prostate Cancer
SWOT Analysis of Prostate Cancer
Prostate Cancer Market Overview at a Glance
Prostate Cancer Disease Background and Overview
Prostate Cancer Diagnosis
Prostate Cancer Epidemiology and Patient Population
Country-wise Prostate Cancer Epidemiology
Current Prostate Cancer Treatment Practices
Guideline of Prostate Cancer
Unmet Needs of Prostate Cancer
Prostate Cancer Marketed Therapies
Prostate Cancer Emerging Therapies
Prostate Cancer Seven Major Market Analysis
7MM Prostate Cancer Market Size
Prostate Cancer Market Access and Reimbursement
Prostate Cancer Market Drivers
Prostate Cancer Market Barriers
Appendix
DelveInsight Capabilities
Disclaimer
About DelveInsight
About DelveInsight
DelveInsight is a premier Business Consulting and Market Research firm focused exclusively on the life science segment. With a wide array of smart end-to-end solutions, the firm helps the global Pharmaceutical and Bio-Tech companies formulate prudent business decisions for better growth in the market.
Media Contact
Company Name: DelveInsight Business Research LLP
Contact Person: Vinita Rakheja
Email: Send Email
Phone: 9193216187
Address:304 S. Jones Blvd #2432
City: Albany
State: New York
Country: United States
Website: www.delveinsight.com/