After doing a Ph.D. in Statistics, aspiring artist Brandon Vaughn launches his first rock album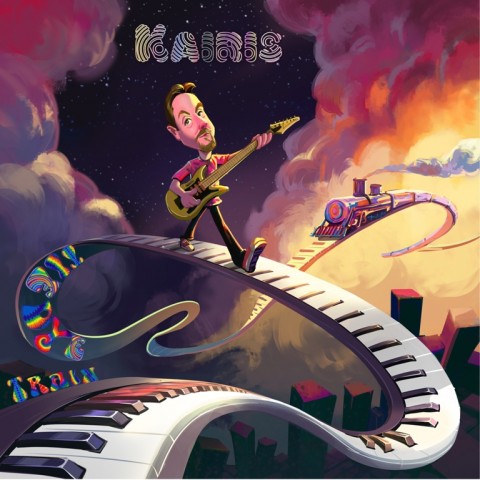 Brandon Vaughn is an aspiring singer and songwriter from Austin, Texas, who recently launched his first rock album titled "Tie Dye Train". He named his band "Kairis" after his daughter and the album name is inspired by his love for tie-dye clothes. The album is composed of 13 songs featuring distinct rock styles, and complex vocal harmonies beautifully placed among a backdrop of catchy rock riffs. His debut album covers a wide range of themes from traditional love songs (Send You Me), to Alice in Wonderland (Way Down (the Rabbit Hole)), to peace in the world (Love Not War).
Kairis' music is inspired by bands like the Foo Fighters with a generous nod to rock icons like The Beatles. He also derives his inspiration from groove bands like King's X, Extreme, and Kansas. Brandon wrote all the songs on the album and played all the instruments himself. Apart from doing rock music, Brandon also has an interest in orchestral music and has created the gothic instrumental group Raven Chronicles. He can be called a "math rock" musician and when he is not solving problems using complex stats, he can be found composing music in a silent corner of his home studio.
Check out the sample lyrics of a few of his songs:
"Send You Me" –
If a kiss were a raindrop, I'd send you showers.
If a hug was a second, I'd send you hours.
If a smile was a drop of water, I'd send you the sea.
And if love was a person, I'd send you ME!
"Love Not Hate" –
We've tried war
Till our souls are ripped and torn
We were meant to be
More than we see
"Tie-Dye Train" –
Pull up to the station
A busy and dead-end life
No need to come unglued
I'll give some good advice
You can strain and then drain
Victim of circumstance
Or embrace the wonder
Bright blue skies dance
Listen to his album now on Spotify.com.
Media Contact
Company Name: Kairis
Contact Person: Brandon Vaughn
Email: Send Email
Country: United States
Website: kairis.hearnow.com