LA Nurse Advocates Lice Prevention with Bust a Bug Day and Patented Lice Comb
LOS ANGELES, CA – September 27, 2019 – Prevention is better than cure. That's the resounding message surrounding the Bust a Bug Day campaign established by British Registered Nurse, Midwife and Creator of a patented lice comb, Logan Steiner.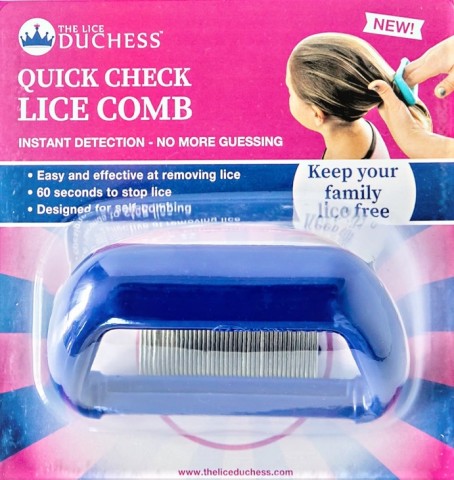 Statistics show that there's an estimated 6 to 12 million lice infections in the US every year among children between the ages of 3 and 11. Most parents check for lice using their hands and often dismiss the signs of itching since they are unable to see it. The fact is that lice is barely visible and hard to find at the initial stage because it is usually one fertilized female who latches on to hair after a head to head encounter from another child with lice. The female lays 3 to 10 eggs a day and in 7 to 10 days those eggs hatch and that's when most children start to itch. Sadly, the longer it takes to detect and treat lice, the more likely it is to spread and create havoc.
Bust a Bug Day is a monthly event designed to get parents to routinely comb for lice, using a lice comb, regardless of whether or not there are visible signs. The process only takes 60 seconds or less using Steiner's patented 'Quick Check Lice Comb'. This unique lice comb features a patented grip handle that provides easy combing for detection of lice if present. It is also designed for self-combing, which means other caregivers of children can also play an active role in lice prevention.
Widely known as The Lice Duchess, Steiner has been helping families deal with head lice infestations for more than ten years. After realizing the mistakes that families were making that lead to lice infestation, the British Trained Nurse and Midwife made it her mission to educate families on how they can prevent lice infestations through routine combing.
Asked why her focus is on routine combing, Steiner explained: "Routine combing prevents lice infestations as finding it in the very early stages means it can be treated quickly and easily, thereby eliminating unneeded stress and expense."
In addition to her quick check lice comb, Steiner also created a number of lice tools to simplify the Bug Busting process. Her inventory includes a Lice Fighting Hairbrush, a very informative e-Book and other products to simplify lice removal.
For product purchases, tutorials and resources on how to stay lice free, visit: theliceduchess.com.
Media Contact
Company Name: The Lice Duchess
Contact Person: Logan Steiner
Email: Send Email
Phone: Logan Steiner
Country: United States
Website: http://theliceduchess.com/