Serena Dyer on the Metamorphosis Show with Dr. Tassel Faith: Lead With Your Magic
Seattle, WA – September 15, 2022 – The Metamorphosis Show with Dr. Tassel Faith is a podcast that focuses on how we can move through radical changes in our lives. How we can let go of the parts of our past that hold us back and reform ourselves as transformed and empowered individuals.
Are you in need of a rebirth?
On this episode we talk to Serena Dyer about her metamorphosis.
Listen Here
About Dr. Tassel Faith
Dr. Tassel Faith helps people remember their MAGIC. Dr. Tassel straddles two worlds: the linear, seen world and the intuitive, unseen world.
She is a licensed doctor of psychotherapy with two master's degrees, and she has been in clinical practice for over a decade. Simultaneously, she draws on her experiences and learnings as an indigenous shaman in past lifetimes.
Dr. Tassel also utilizes her trainings as a Reiki master, certified kundalini yoga teacher, and certified hypnotherapist, as well as multiple other modalities such as past life regression, breathwork, akashic records, inner child work, soul retrieval, ancestral clearing, trauma/grief work, sacred circle practices, and ceremony.
Dr. Tassel works from a spiritual, subconscious, and clinical orientation, specializing in helping individuals to activate their own inner gifts in the seen and unseen worlds.
Dr. Tassel has been featured in publications such as Best Self and People Magazine and has lectured extensively. She is the founder of the You Are Your Own Hero community, which recently won international recognition as a leading personal growth and development program from the 2022 Private Health Care awards.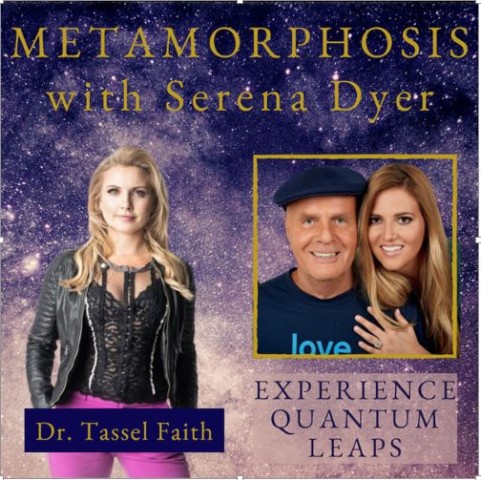 About Serena Dyer
Serena Dyer is the sixth of Wayne and Marcelene Dyer's eight children. Serena attended the University of Miami, where she received bachelor's and master's degrees, and now lives in South Florida with her husband and three children. Serena co-authored her first book with her father, Dr. Wayne Dyer in 2014, and her most recent book, "The Knowing" was co-authored with her sister Saje and released in May of 2021.
The Transformation Network – Dr. Tassel Faith
Connect: www.drtassel.com
About The Transformation Network
Our Mission is to stream a powerful blend of Live TV interviews with a mix of uplifting and intelligent news plus educational and practical information. Topics range from personal development to critical issues relevant to a rapidly changing world. The Transformation Network is the new mainstream in media. Their mission is to transform the world one listener at a time as their networks reaches millions in over 165 countries. As Dr. Pat the network founder says, "We talk about everything from sex to spirituality with a vibration that honors the dignity of the human spirit." For more information about Hosting your own show email [email protected]
Contact: Jesica Henderson [email protected]
855-393-3742
Media Contact
Company Name: The Transformation Network
Contact Person: Jesica Henderson
Email: Send Email
Country: United States
Website: https://www.drtassel.com/