Glioma Market to Accelerate Substantially During the Forecast Period (2019-32) – DelveInsight | Key Players- Candel Therapeutics (CAN-2409), Chimerix, AIVITA, Philogen, Xennials, Istari, Apices, Agios
As per DelveInsight's assessment, globally, around 150+ key pharma and biotech companies are working in the Glioma therapeutics landscape. Several of the therapies are in the advanced stages of clinical development and are expected to launch in the coming years.
DelveInsight's "Glioma Market Insights, Epidemiology, and Market Forecast 2032" report delivers an in-depth understanding of the disease, historical and forecasted epidemiology, as well as the Glioma Market size, share, and trends in the seven major market (7MM) (i.e., the United States, EU5 (Germany, Spain, Italy, France, and United Kingdom) and Japan).
The Glioma market report covers emerging drugs, current treatment practices, market share of the individual therapies, and current & forecasted market size from 2019 to 2032. It also evaluates the current treatment practice/algorithm, market drivers & barriers, and unmet medical needs to curate the best of the opportunities and assess the underlying potential of the market.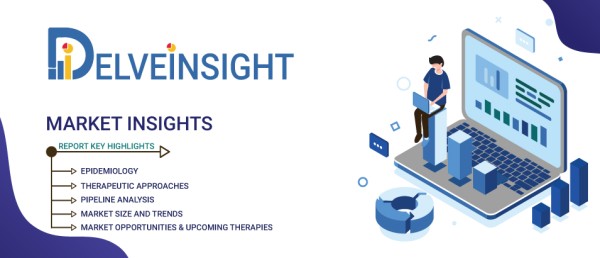 Glioma: An Overview
Glioma is the most common form of central nervous system (CNS) neoplasm that originates from glial cells. In the United States, there are six cases of gliomas diagnosed per 100,000 people every year. Gliomas are very diffusely infiltrative tumors that affect the surrounding brain tissue. Recently, gliomas were classified based on molecular and genetic markers. These advances have more specific prognostic and therapeutic benefits for patients with gliomas.
Latest Developments In the Glioma Therapeutics Market
On September 15, 2022, Candel Therapeutics announced that it has received Orphan Drug Designation from the European Medicines Agency for its therapy CAN-2409 in Glioma. Earlier in June 2021, the U.S. Food and Drug Administration (FDA) granted the fast track designation to CAN-2409 in combination with valacyclovir following standard of care treatment in newly diagnosed high-grade glioma.
CAN-2409 is a genetically modified adenovirus. It is currently being evaluated in multiple phase 2 and phase 3 clinical trials for lung, brain, pancreatic, and prostate cancers.
The market outlook section of the report helps to build a detailed comprehension of the historical, current and forecasted Glioma market size by analyzing the impact of current and emerging therapies in the market. It also provides a thorough assessment of the market drivers & barriers, unmet needs, and emerging technologies.
The report details the Glioma market trend for each drug and late-stage pipeline therapy by evaluating their impact based on the annual cost of therapy, mechanism of action (MoA), competition with other therapies, brand value, and impact on the market.
Glioma Epidemiology
There is an estimated 80,000 newly diagnosed cases of primary brain tumor each year in the United States. Around one-fourth of which (i.e., 20,000) are gliomas. The total number of glioblastomas diagnosed each year is around 12,000 cases (approximately 15% of total newly diagnosed brain tumors).
The epidemiology section provides insights into the historical, current, and forecasted epidemiology trends in the seven major countries (7MM) from 2019 to 2032. It helps to recognize the causes of current and forecasted trends by exploring numerous studies and views of key opinion leaders. The epidemiology section also provides a detailed analysis of diagnosed patient pool and future trends.
Glioma Drugs Uptake and Pipeline Development Activities
The drugs uptake section focuses on the rate of uptake of the potential drugs recently launched in the Glioma market or expected to get launched during the study period. The analysis covers Glioma market uptake by drugs, patient uptake by therapies, and sales of each drug.
Moreover, the therapeutics assessment section helps understand the drugs with the most rapid uptake and the reasons behind the maximal use of the drugs. Additionally, it compares the drugs based on market share.
The report also covers the Glioma Pipeline Development Activities. It provides valuable insights about different therapeutic candidates in various stages and the key companies involved in developing targeted therapeutics. It also analyses recent developments such as collaborations, acquisitions, mergers, licensing patent details, and other information for emerging therapies.
Request for Sample PDF Report – https://www.delveinsight.com/sample-request/glioma-market
Glioma: Therapeutic Assessment
There are approx. 150+ key companies which are developing therapies for Glioma. Currently, Chimerix has its Glioma drug candidates in the most advanced stage of clinical development.
Glioma Emerging Drugs
• ONC 201: Chimerix
• DSP-7888: Sumitomo Dainippon Pharma
• AV-GBM-1: AIVITA Biomedical
• DB102: Denovo Biopharma
• AB-218: AnHeart Therapeutics
And many others
Some of the key companies in the Glioma Therapeutic Market include
Chimerix, Sumitomo Dainippon Pharma, AIVITA Biomedical, Denovo Biopharma, Plus Therapeutics, Philogen S.p.A., Xennials Therapeutics, Laminar Pharmaceuticals, Shanghai Gencells Therapeutics, AnHeart Therapeutics Inc., Istari Oncology, Inc., Beijing Pearl Biotechnology Limited Liability Company, Epitopoietic Research Corporation, Everfront Biotech Co., Ltd., CNS Pharmaceuticals, Bexion Pharmaceuticals, Inc., Lee's Pharmaceutical Limited, Merck & Co, Oblato, Inc., OncoSynergy, Inc., SystImmune, Aadi Bioscience, Inc., Day One Biopharmaceuticals, SpringWorks Therapeutics, Inc., Bristol-Myers Squibb, PTC Therapeutics, Apices Soluciones S.L., Chia Tai Tianqing Pharmaceutical Group Co., Ltd., TCRCure Biopharma, SonALAsense, Inc., Midatech Pharma US Inc., Prelude Therapeutics, Incyte Corporation, BioMimetix JV, LLC, GlaxoSmithKline, DNAtrix, Oblato, Inc., NeoImmuneTech, Nuvation Bio Inc., Forma Therapeutics, NanoPharmaceuticals LLC, Erimos Pharmaceuticals, Alaunos Therapeutics, Symphogen, Samus Therapeutics, Inc., Istari Oncology, Neonc Technologies, Inc., Agios Pharmaceuticals, Basilea Pharmaceutica, BeiGene, Kazia Therapeutics, AstraZeneca, Nerviano Medical Sciences, VBL Therapeutics, and others.
Get More Detailed Insights Into the Emerging Therapies & Key Companies –
https://www.delveinsight.com/sample-request/glioma-market
Table of Content (TOC)
1. Key Insights
2. Executive Summary
3. Glioma Competitive Intelligence Analysis
4. Glioma Market Overview at a Glance
5. Glioma Disease Background and Overview
6. Glioma Patient Journey
7. Glioma Epidemiology and Patient Population
8. Glioma Treatment Algorithm, Current Treatment, and Medical Practices
9. Glioma Unmet Needs
10. Key Endpoints of Glioma Treatment
11. Glioma Marketed Products
12. Glioma Emerging Therapies
13. Glioma Seven Major Market Analysis
14. Attribute Analysis
15. Glioma Market Outlook (7 major markets)
16. Glioma Access and Reimbursement Overview
17. KOL Views on the Glioma Market.
18. Glioma Market Drivers
19. Glioma Market Barriers
20. Appendix
21. DelveInsight Capabilities
22. Disclaimer
*The Table of Contents (TOC) is not exhaustive; the final content may vary. Refer to the sample report for the complete table of contents.
Download Sample PDF Report – https://www.delveinsight.com/sample-request/glioma-market
About DelveInsight
DelveInsight is a leading Business Consultant and Market Research Firm focused exclusively on life sciences. It supports pharma companies by providing comprehensive end-to-end solutions to improve their performance.
Other Trending Healthcare Reports by DelveInsight
Postmyocardial Infarction Syndrome Market Insight
"Postmyocardial Infarction Syndrome Market" research report provides a detailed overview of the historical and forecasted epidemiology as well as the Postmyocardial Infarction Syndrome Market size, share, and trends in the 7MM (i.e., the United States, EU5 (Germany, Spain, Italy, France, and United Kingdom) and Japan). Additionally, it also covers the latest innovations, breakthroughs, emerging therapies, and key companies operating in the therapeutics market.
Media Contact
Company Name: DelveInsight Business Research LLP
Contact Person: Shruti Thakur
Email: Send Email
Phone: 09650213330
Address:304 S. Jones Blvd #2432
City: Las Vegas
State: NV
Country: United States
Website: https://www.delveinsight.com/